Summary Report
McMaster will strive to nurture and support all students to be as healthy as they can be and to reach their potential. Mental health and well-being are understood as key components to health. We will achieve this outcome through our ongoing commitment to creating an inclusive, supportive, and healthy educational environment.
Background
In April 2013 the McMaster Student Mental Health Forum, a student initiative, brought together student leaders, mental health professionals, administrative leaders and academics with a specialization in mental health to discuss the needs of our particular students. The forum provided key recommendations moving forward, one of which was to establish a Mental Health Strategy. In January 2014, Student Affairs, in partnership with the Faculty of Health Sciences, undertook a project to assess the McMaster landscape in order to identify the strengths, challenges and gaps to adequately address the mental health needs of our students.
To date, Dr. Catharine Munn and Allison Drew-Hassling, co-leads for the Student Mental Health & Well-Being Strategy, have interviewed over 150 students, staff and faculty, with over 200 hours of direct face-face contact with the community. Based upon consistent feedback from the community, and in consideration of the current fiscal climate, short-term priorities have been identified. This project is on-going with an expectation for consistent reviews and refinements, as the recommendations are implemented. The recommendations emphasize the importance of cross-collaboration with the use of working groups and an overarching Advisory Committee. The implementation of initiatives will be evaluated for quality improvement and effectiveness.
The McMaster Student Mental Health and Well-being Framework has been developing by relying on current, relevant research and practices which address post-secondary mental health and policies such as the World Health Organization's Health-Promoting Universities document, the JED Foundation's Healthy Campus model in the U.S., and the Canadian Association of College and University Student Services (CACUSS) and Canadian Mental Health Association's (CMHA) recommendations regarding a systemic approach to mental health in post-secondary settings.
Based upon our literature review, environmental scan and interviews with members of our McMaster community, we have observed that mental health and well-being is an issue that intersects with the entire campus. Mental health impacts a student's engagement and overall academic performance. There has been an increase in the number of students self-identifying as having a mental health challenge. Many campus front-line staff identify that there are more and more students with complex mental health challenges seeking support. In order to respond appropriately to the current demands on our services and in anticipation of the rise in requests for care, as we educate and train our campus about mental health, we must: (1) increase our capacity to respond, through a commitment to ongoing assessment of access to and efficiency of our services; and (2) increase the number of front-line staff within the Student Wellness Centre to support the demands for service.
A number of other issues and questions will require our consideration:
Striving to identify innovative approaches to teaching and learning for all, in part, by creating a safe and inclusive environment and also by using teaching styles that build on our increasing understanding of cognition through psychology and neuroscience is a new frontier to be explored and one in which McMaster is well-positioned to take the lead.
McMaster has the capacity to be a leader in North America given its mental health and research expertise. The transition aged or emerging adult population is an under-studied area, especially in the Canadian context. Establishing collaborations within the university and outside community partners to further understand this population should be an area of continued focus as it will benefit our understanding of the needs of our students and the broader Canadian context.
We also play a significant role in society as a leader and an advocate for change. There are many social determinants to mental health, as well as, funding barriers that cannot be resolved at the post-secondary level without lobbying the provincial and federal level for a reconsideration of how to most effectively support and serve our young adults within the post-secondary context and within broader society.
"We envision a community that recognizes improving the health of our campus is a shared commitment. We strive to foster a healthy, supportive and inclusive educational environment and one of our primary goals is to create a culture of caring and support: 'we care for the whole student and we care for one another'. We as a campus recognize that student well-being and good student mental health are critical foundations for student success. We are committed to campus wide mental health literacy and education about wellness and we, as a campus (through our policies, employee relations and the way we support our students) model the importance of wellness, self-care, resilience and social responsibility. Our campus community, including Faculty, staff and students are equipped with information about how to identify, respond and refer a student (or staff) in distress. When our students do reach out for help, they should feel supported and be validated, as the ability to ask for help is a strength, not a weakness. Through the identification of key mental health and student well-being indicators and measures, we can monitor the success/uptake of our programs and initiatives, and further our understanding of the changing needs of our students."
Recommendations
There are five actions that comprise the first phase of our strategy:
Through the implementation of these actions, champions for this cause will emerge, helping McMaster to demonstrate its commitment to students by creating and sustaining a 'culture of caring'.
Framework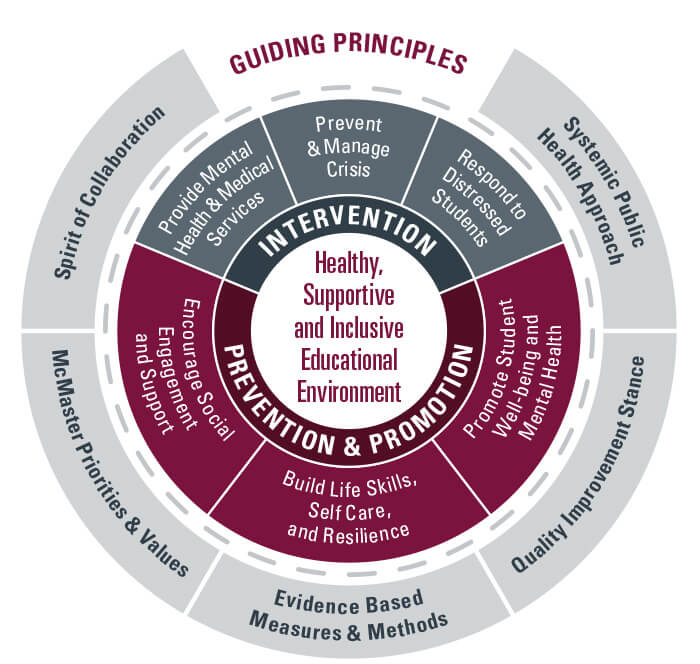 Guiding Principles
Systemic Public Health Approach
Quality Improvement Stance
Evidence Based Measures & Methods
McMaster Priorities & Values
Spirit of Collaboration
Framework Items
Intervention
Provide Mental Health & Medical Services
Prevent & Manage Crises
Respond to Distressed Students
Prevention & Promotion
Encourage Social Engagement and Support
Build Life SKills, Self Care and Resilience
Promote Student Well-being and Mental Health